Profile Image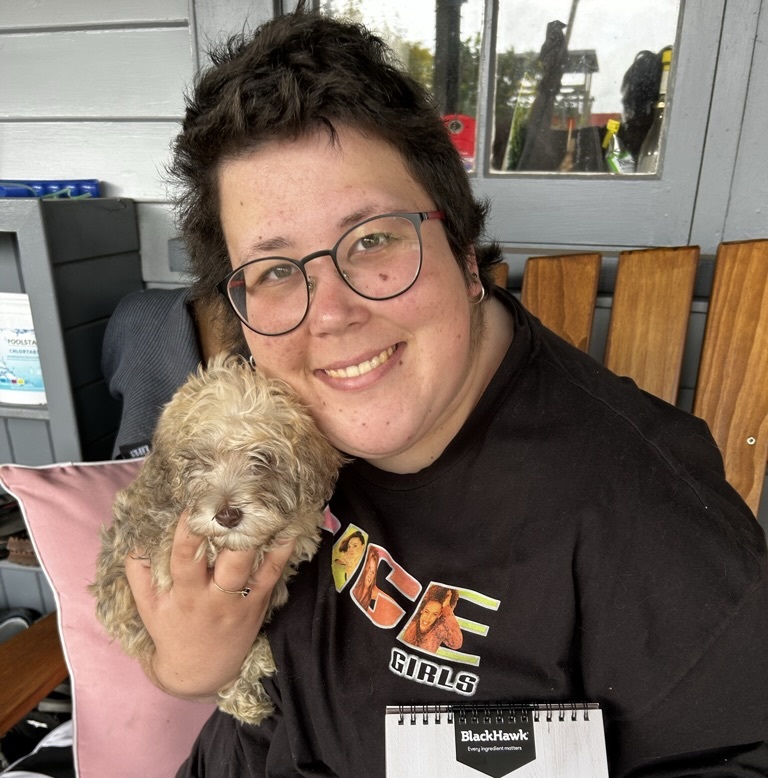 Two weeks before her 20th birthday, South Auckland local, Ivy-Rose was diagnosed with a very rare type of cancer, called synovial sarcoma.  
"For several months before I was diagnosed, I had pain in my leg, which made walking a bit sore. I saw a physio for a few months, but then the swelling started to become more noticeable. 
"I had an MRI the morning before Auckland went into its first lockdown. That afternoon I got a call from the doctor to say 'It's cancer. It looks like you have a tumour in your leg'.  
"I had two thoughts straight away, 'well damn, I'm going to die', and 'they'll have to cut off my leg'."
Going through treatment can make you feel like you're on an emotional rollercoaster, it's scary, confronting, and can make you feel quite alone at times.  
"My treatment plan was intensive, particularly my chemotherapy regime. It was rough, I had six rounds and was hospitalised every three weeks for four days to receive it. On top of this, I had 25 radiation sessions, and an extensive surgery to remove the tumour from my leg.  
"After my leg surgery, I was basically bed bound for eight months to help the scar, where a big part of my thigh muscle had been cut out, heal. I then had to learn how to walk again, which was extremely challenging.  
"My treatment plan was successful, but just over a year after my first diagnosis, during a routine check-up scan, they discovered it had spread to my lungs."  
A cancer diagnosis is difficult to process at any age, but for rangatahi, it can present unique challenges, particularly as it can disrupt the most formative years of their lives.
"The day before my first chemotherapy session started, I did fertility treatment, and went through the process of collecting and freezing my eggs. It was confronting at such a young age.  
"Undergoing treatment has also been really challenging. I've often felt isolated, having to deal with my human interactions being reduced. My cancer is also unpredictable, so making long-term plans is a nightmare.  
"It's also made continuing university very difficult to navigate, I'm often having to stop and start again depending on treatment. This has made it hard watching my friends move on and progress in their lives, while I feel like I'm at a standstill. I've also had to learn how to navigate happiness for them, while also feeling disappointed for myself.   
"But recovery from my leg surgery has been the biggest long-term challenge I've had. Having to accept that many things are more complex and less accessible now." 
Ivy-Rose was referred to Canteen by her AYA (Adolescent and Young Adult) nurse to ensure she had the support she needed. Our Clinical Team works with rangatahi to manage not only traditional issues related to a cancer diagnosis but also those that come about due to the life stage rangatahi are at.  
"I genuinely don't think I would be in the generally positive mental health space I am today without the support and guidance of the Clinical Team. I had sessions at least once a week and I needed it, because the beginning was rough. I now have all these tools and strategies on how to cope with feelings and situations as they arise. 
"Sometimes, your entire social circle drops off, apart from a critical few, especially if your cancer experience drags on into years, like mine (I am going on 3 years!). So, having the Canteen community there was so helpful. Sometimes you feel pretty isolated, whether you're going through treatment, or having to stay at home because you don't have the energy to do much, so connecting with others like yourself is great and takes away the sense of loneliness."
View more Rangatahi stories